The website askFRED.net has become a popular tool for tournament organizers to advertise and take preregistration for their tournaments. Before your first tournament you should create an account and preregister yourself.
First go to http://askfred.net/ and in the top right hand corner there is a link to "Create Membership." Enter your last name in the box on the next page.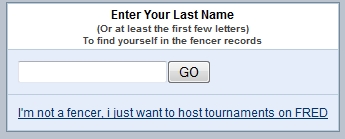 If you have competed before your may already be on the site. Check the dropdown for your name. If not, click on "Create a new fencer record."
Fill in the required information (in green). Your birth year is important as certain competitions will separate fencers by age. Twin Tiers Fencing Club's division is 'Western New York.' If you live in Pennsylvania your division is "Northeast Pennsylvania."
Once your account is created and you are logged in you may register for your tournament.
Make sure to check if your tournament is USFA Sanctioned or not. If so please update your FRED profile with your USFA Membership information. To register as a US Fencing Member see their membership page at usfencing.org.